Energy efficiency has become an integral part of home design. Almost every home component–from windows and doors, to siding and ventilation–is now designed to provide increased energy performance. The same is true for modern roofing systems, which use products and materials that help keep energy consumption to a minimum. But did you know you can further add to your roof's energy efficiency? One simple and effective way to do it is through solar panel installation–a service that's offered by trusted roofing contractor, Kingdom Roofing.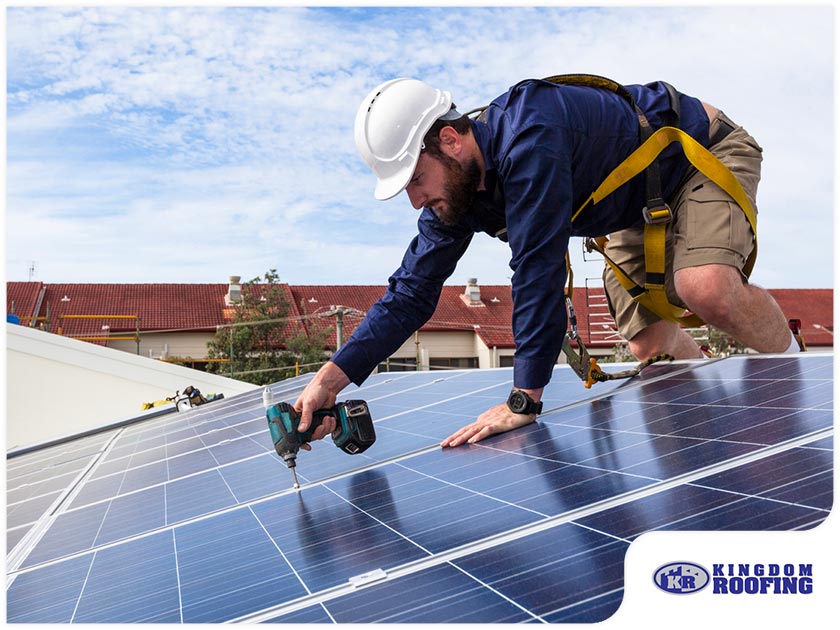 But switching to solar can be understandably daunting for first-timers. To ensure a smoother transition to this alternate energy-saving solution, check out these handy tips:
Learn about your available options. Solar panels are available in different materials, including monocrystalline, polycrystalline and thin film (amorphous). Try to weigh their pros and cons according to your specific needs and budget to decide which option best suits them. If you're having trouble choosing, you can consult a premier roofer like Kingdom Roofing. We'll be more than happy to help you explore your options.

Always take quality into account. If you want to get the most of your switch to solar panels, make sure that your choice is proven high-quality. Top roofing replacement expert, Kingdom Roofing offers superior Energy solar roofing systems from trusted industry name, GAF®. They come with a sleek low-profile design that allows them to deliver excellent energy performance without compromising curb appeal. In fact, GAF® Energy solar roofing is integrated into your roof instead of being rack-mounted like its standard counterparts. The panels themselves are directly attached to the roof deck, allowing for a sturdy design that eliminates the potential for leaks.

Work with a reliable solar panel installer. To ensure your solar panels will be installed to quality standards, make sure to hire a company that specializes in this type of project. For South Florida homeowners, that will be Kingdom Roofing. As a GAF® Master Elite® roofing contractor, we can ensure that your GAF® Energy solar roofing installation will be done perfectly right the first time.
Call Us Today!
Aside from providing exceptional roof repair services, Kingdom Roofing can also handle your solar panel installation needs. With our skilled and certified team, we'll make sure your upgrade goes on without a hitch, allowing for a home that's more comfortable, efficient, and sustainable. We proudly serve Venice and the rest of South Florida. Call us today at (941) 217-2411 or fill out this contact form to schedule your consultation. We look forward to hearing from you!