Roof replacement is an important investment. The good news — there are plenty of financing options available to make sure you're not breaking the bank, shingle by shingle.
Financing a new roof, with the option to pay in installments, is how many homeowners get the roof they need when a roof replacement can't be put off any longer.
If your roof repair or replacement is urgent, we have partnered with YGrene for their incredible and simple roof financing options.
Ygrene Financing
Ygrene makes home improvement financing fast, easy and accessible.

With 100% financing and no money down, you can start your home improvement project right away. Ygrene's PACE financing offers many benefits that aren't available with traditional financing, and you can get approved in 30 minutes or less.
100% financing, no money down
No minimum credit score required1
Fixed rates, flexible terms up to 30 years2
No payments until March 2023 with ExtendPay3
Ygrene Vs. Credit Based Financing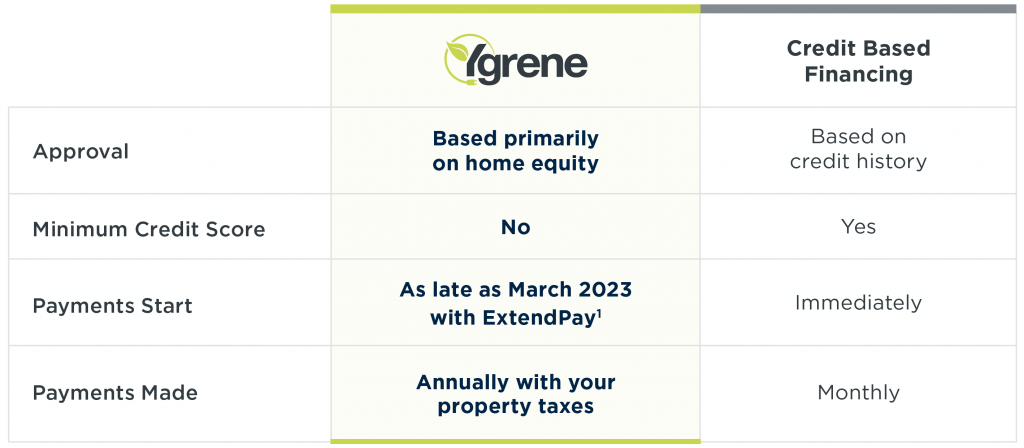 1While Ygrene does not consider your credit score, we will pull your credit during underwriting in order to determine your eligibility. 2Terms of 10, 15 and 20 years are valid in all Ygrene service areas; 25 and 30 year terms are available depending on service area as well as type and estimated useful life of the improvement. 3Subject to underwriting guidelines and approval; timing of first payment depends on date of funding, interest accrues after funding. ExtendPay will add an additional 12 months of capitalized interest in your total financed amount which must be repaid with your financing. Ygrene is not a government program.