It is always a good idea to work with a roofing contractor in case your roof sustains damage following a storm or is showing signs that point to the need for immediate replacement. However, due diligence is required to make sure the professionals you hire are qualified and can be relied upon to do their jobs. Always check for certifications—these are proof of the contractor's stringent vetting by an independent organization or manufacturer.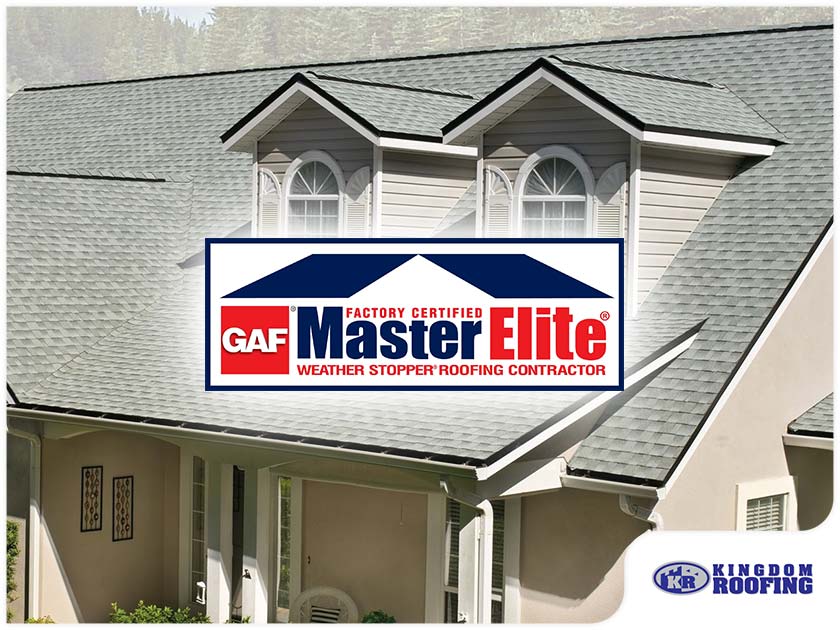 The GAF Master Elite® certification is among the most trusted certifications in the home improvement industry. This distinction is what separates the most reputable companies from the bad, unscrupulous ones.
What a Master Elite Contractor Can Provide You
Before a roofing contractor earns its GAF Master Elite certification, it must first adhere to the roofing manufacturer's strict guidelines. First, it must have the necessary licenses to tackle any roofing project. Second, it must carry adequate insurance to protect its customers from liability should there be an accidental injury or property damage during a roof repair or replacement.
Third, it must have a proven reputation through good customer feedback and online reviews, which are essential for representing a high-caliber brand with an equally sterling reputation like GAF. Lastly, its installers must be committed to ongoing professional training so that every installation they work on reflects the high standards upheld by the roofing manufacturer.
By working with a Master Elite roofer, you can rest easy knowing that the pros will never compromise on quality and will deliver the best possible results through top-notch workmanship and customer service. In fact, according to a survey of more than 28,000 homeowners in the United States served by GAF factory-certified contractors, an overwhelming 93% of them would recommend their Master Elite contractors to others.
Steering Clear of Bad Roofers
One of the big reasons for hiring a manufacturer-certified roofing contractor is that it safeguards you from the schemes non-certified ones make to cheat people out on a quality roofing system. These fraudulent roofers offer their services at a drastically low cost, drawing interest from homeowners who don't know any better.
It does sound tempting to many, but lower costs on roof repair services are indicative of the contractors' penchant for cutting corners and not doing a good job. Engaging their services means the finished roof will have to be repaired again in a matter of hours or a few days after a storm hits. Substandard work might also void the roof's existing warranty coverage, not to mention hasten its wear and tear and premature failure.
Here's a list of how bad roofing contractors cut corners:
Using Cheaper Shingles as Substitutes – Unscrupulous roofers may use low-quality shingles to cut costs. They're cheaper than high-quality ones but tend to have factory defects. These could lead to elements getting through the roof covering, resulting in leaks and deterioration.
Skimping on Nails – Many contractors hold out on using an adequate amount of nails just to save a bit of money. Without enough nails, shingles can be easily dislodged by strong winds, exposing your roof's inner layers to the elements.
Not Using Drip Edges on Rakes – These are usually not required in roof installations, thus it is viewed as an unnecessary expense for less-than-reputable companies. Certified roofers, however, make sure to include this feature so that the roof they're working on can last longer.
Subcontracting Labor – Some contractors are able to offer a lower cost because they hire subcontractors. Be vigilant, however, when you encounter one. The roofing company might have no idea who's doing their work, which means any work done may not be of the highest quality.
At Kingdom Roofing, there are no shortcuts—just pure residential roofing expertise that meets the highest possible standards. As a GAF Master Elite roofing contractor, we are committed to providing our customers with the most professional roofing services and installing only the highest quality products, correctly, on-time and at the best value.
Give us a call at (941) 217-2411 to get started. You may also fill out our contact form to request a free quote.