The underlayment is a crucial part of your roofing system, and it's typically found on top of the decking. Although it is not often seen, the underlayment plays an important role in protecting your roof from the elements. It prevents water from seeping underneath the shingles, making your roof less susceptible to damage.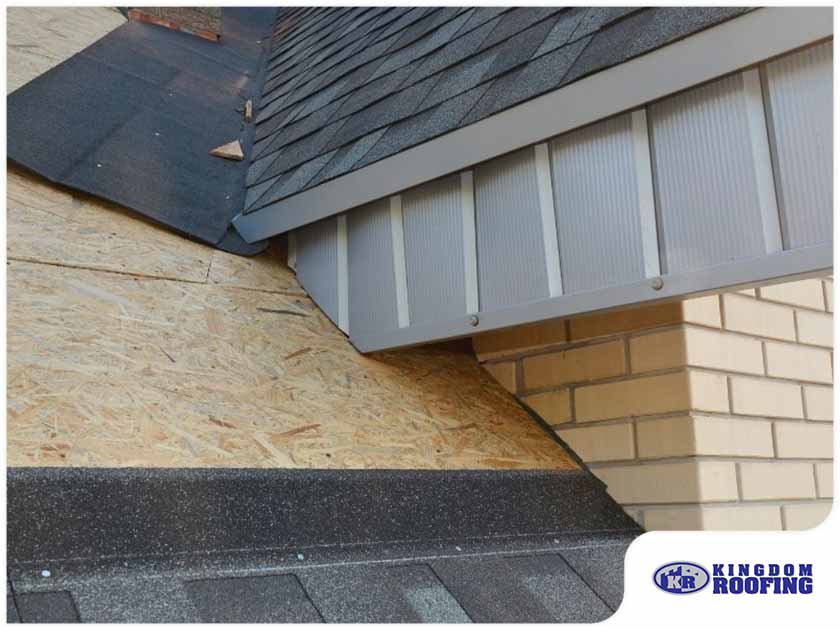 That said, a quality underlayment can resist water well. Generally, a thicker and stiffer material means that the underlayment can provide better and longer protection against the weather. Nevertheless, the underlayment can also be prone to issues, especially if it is not installed correctly or the material is of poor quality.
In today's post, trusted roofing contractor Kingdom Roofing further discusses the two common causes of underlayment failure. We also offer an explanation of why it's important to have your roof fixed immediately and how underlayment failure can be repaired.
Causes of Underlayment Failure
Underlayment failure occurs due to varying factors, but it is often the result of low-quality materials or faulty installation.
If your underlayment is made of subpar materials, it won't be able to keep water out. And when your roof is frequently exposed to moisture, the material will wrinkle and prematurely fail.
When checking for products, you'll find that there are several options for roofing underlayment. Manufacturers offer numerous underlayment materials that are breathable and at the same time can provide an additional layer of protection. This kind of underlayment doesn't buckle when installed. In fact, roof shingles can lay flatter on it, thus reducing the susceptibility of the shingles to blow-offs and storm damage.
An underlayment made of excellent materials could still fail if it is not installed properly. That is why it's important to hire a qualified and experienced contractor to work on your entire roofing. During installation, improper handling or footfall can damage the material. This can have an impact on the quality, performance and durability of the underlayment. 
If you have reason to believe that your underlayment is compromised, reach out to your contractor or contact a different contractor to have your roof checked. Furthermore, to ensure that your underlayment remains in good condition, schedule regular inspections of your roofing system. Remember that your roof's underlayment is hidden from view, so it wouldn't be easy for you to spot any issues or damage in the material.
Hazards of a Damaged Underlayment 
If your roofer has detected issues in your underlayment, make sure to engage their roof repair services at once. The problem should be addressed immediately. Otherwise, significant damage can potentially occur due to leaks, mold growth and structural issues.
Sometimes damage on the underlayment can be aggravated by worn shingles. Obviously, roof shingles that are in bad shape can make it easier for water to reach the layers underneath the shingles, including the underlayment. When water continues festering on your underlayment, it could eventually lead to extensive water damage on your ceilings and walls. It's also possible for water to pool in an area of the underlayment and later on pour out through your ceiling.
A water-damaged underlayment becomes prone to mold growth. The dark and damp conditions make the underlayment a breeding ground for mold, which is not only harmful to your roof but your family's health too. Toxic mold can lead to health issues, especially if you or a family member is already suffering from allergies, respiratory issues or other health conditions. Make sure to get rid of the molds promptly and address the source so that a recurrence can be avoided.
A wet underlayment can create excess weight, putting your home's frame at risk of buckling or developing rot. Keep in mind that the underlayment is meant to stay dry and light so as to avoid putting unnecessary strain on your walls.
If you have noticed these issues in your home, call a roofing company. Never attempt to climb up on your roof and do your own inspection. Without the proper skills and tools, you may cause more damage to your roofing.
Repairing Underlayment Damage
Detecting underlayment damage is not easy for the untrained eye. That's why you should enlist the services of a professional to find the problem and determine its root cause. Identifying the reason behind underlayment failure is a crucial step as it helps your roofer come up with an effective and long-lasting solution. If your area has recently been through a storm, this should give you more reason to contact a professional roofer.
Remember that a thorough inspection of your roof is essential. Without examining your roof, a contractor won't be able to make the right recommendations. In some cases, a repair is enough to fix the problem. But in other instances, replacing the entire roof system is necessary.
Hiring the Right Contractor
Keep in mind that hiring the right professionals can help guarantee an excellent outcome. So take your time and get to know a roofing contractor before signing on any agreement. Ensure they are qualified to perform roof inspections and repairs or any other roofing service that you'll need.
Experience and workmanship are also important factors that you should look into. Ask about similar jobs they've done in the past. Have them explain to you the problem and the steps that should be taken in order to address it. Lastly, don't forget to check reviews about the company. Feedback from past customers can give you a glimpse of the quality of service that you can expect from the roofers. Online review sites should be a big help in this regard.
Get a Free Roofing Quote Today!
Kingdom Roofing draws from over 30 years of combined experience in roofing, remodeling and general contracting projects. Skilled and qualified, our team ensures top-notch workmanship, whether the job is roofing replacement or repair. We also strive to communicate clearly and regularly with our clients, making sure their needs and expectations are satisfactorily met.
To learn more about our services, call (941) 217-2411. Alternatively, you can fill out our contact form to schedule a consultation.