Moisture occurs throughout your home every day. Whenever you cook, bathe, wash and exercise, moisture is produced and released into the air. Moisture can also enter your home from the outside, and your roof ensures that moisture is kept out of your home.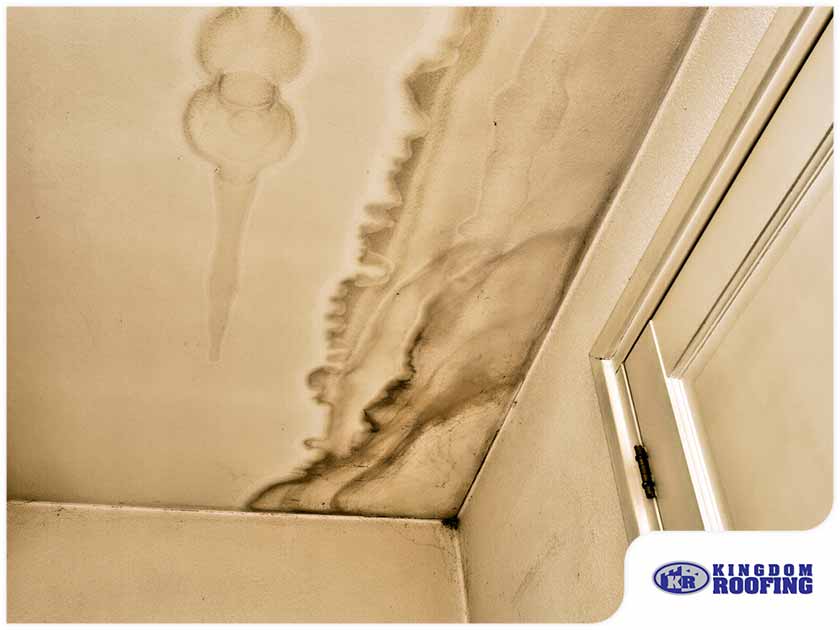 A normal level of humidity is OK; in fact, it is crucial to your indoor comfort. But once excess moisture is generated inside your home, this can cause several problems that could affect your roof and the rest of your home.
In this post, we examine some signs of moisture damage that a roofing contractor typically looks out for. We also discuss the importance of professional roof inspections.
Signs of Moisture Damage
Moisture damage occurs in various ways, and it can cause harm to different kinds of materials in your home.
Decay – Rot or decay infects cellulose-based products (i.e. wood) when the material moisture levels go up to about 20%. Your roof is likely built with some wooden components. So if this problem continues undetected for a long time, wood rot can create extensive damage to your roofing.

Corrosion – The metal fasteners and connectors holding the roof framing are mostly metal. This makes these components susceptible to damage from corrosion.

Leak – A leak does not necessarily mean that moisture from outside is penetrating your roof. Sometimes it may seem like your roof is leaking when there is excessive moisture in your attic. Nevertheless, it's important to note that leakage is not always visible.
If you notice any of these problems in your roof, you should enlist professional roof repair services immediately. The quicker you take action, the better you can prevent the issue from developing into significant damage.
Importance of Roof Inspections
Moisture issues in your roofing system can be detected through a professional inspection. Make sure to schedule regular roof inspections so that you'll always have up-to-date information about the condition of your roof. A lot of roofing issues can be avoided by simply having your roof checked for leaks, rot, corrosion and other kinds of damage.
Kingdom Roofing provides quality solutions for any roofing budget. Our team has expertise in various jobs including roofing replacement, roof repair and more. Call us at (941) 217-2411 or fill out our contact form to request a free estimate.