You already know just how big of a deal roofing replacement or repairs can be. Projects like these usually take a considerable amount of your time and money, so you'll want to make sure there are no mishaps that can cause them to go off track. This is possible by working with a roofing contractor–but how exactly do you know if your choice is the right person for the job. Kingdom Roofing, the premier roofing expert in the area, shares some of the practical questions you should ask.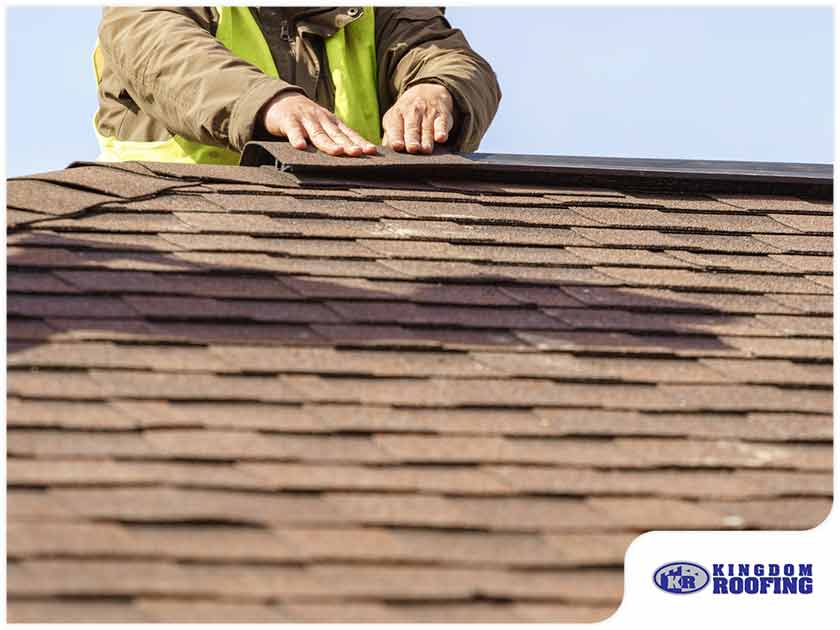 But First, You'll Need to Find a Roofing Contractor
Roofers don't magically knock on your door when you need them–the ones who do are actually storm chasers and should be avoided at all costs. Looking for one yourself is fairly simple. The easiest would be an online search, which can provide you with a quick list of available roofing companies in your area. Most of the time, the list is extensive enough that you'll have to do some more checking until you find one that seems reliable.
Another way would be to ask for local referrals. While a bit outdated, a referral typically gives a clearer and more accurate idea on how a given roofing contractor conducts business. Ring up family and friends and ask them about the roofers they've previously worked with. Are they professional? Have they done a good job? Once you've listed a few good names, narrow them down further by scheduling an interview. Here's what to ask:
Do You Have the Necessary Credentials? 
Make sure your choice has the applicable business license, which makes them eligible to perform this type of work in your area. A quick call to your local or state licensing office will confirm this. Aside from the necessary license, your roofer should offer proof of insurance, including workers' compensation and liability coverage. These help protect you better in case something goes wrong in your property during the project. Worker injuries and property damage are not unheard of in roofing projects, after all.
What About Manufacturer Certifications?
Your choice of contractor is licensed, bonded and insured–but this isn't always enough. To ensure you're working with one of the best in the roofing industry, you should check them for manufacturer certifications. This serves as a badge of honor for many roofing contractors, proving they have passed, or even exceeded, the rigorous testing and training set by the manufacturer they represent. It also means they can be trusted to deliver roof repair services or roof installation that adheres to the brand's strict quality specifications.
Kingdom Roofing, for example, is a GAF® Master Elite® roofing company. This means you'll have access to some of the highest quality asphalt shingle roofing systems available today. They are designed to withstand the harshest weather conditions–from heavy rainfall to high winds–thanks to Advanced Protection® Technology. You can expect only reliable and long-lasting performance from our roofing options.
But that's not all–our GAF shingles also come in a wide range of colors, textures and thicknesses. Some can even mimic the look and feel of other premium roofing materials, such as wood shakes and slate, allowing for almost limitless design possibilities. No matter your home's style or exterior palette, there's a GAF asphalt shingle that can match it beautifully. Make sure to consider Kingdom Roofing when planning your roofing replacement project.
Can You Tell Me More About the Warranties You Offer?
If you're investing in a new roofing system, it's generally a better idea to work with a credentialed contractor, like Kingdom Roofing, who offers solid warranty coverage. We are a GAF Master Elite roofer, which means we can cover your new roof with industry-leading warranties, such as our exclusive GAF Golden Pledge® Warranty. This provides 50-year coverage on materials and 25-year coverage on labor, along with a comprehensive roof checkup by a GAF certified inspector following the installation. What's more, Kingdom Roofing offers our own workmanship guarantee to add an extra layer of protection to your investment.
How Long Have You Been in Business?
The last thing you want is to leave your roofing project to an amateur who'll make costly mistakes and provide unsatisfactory results. Hire a contractor who already has decades of industry experience. In the South Florida area, that will be Kingdom Roofing. With our combined 30 years of experience, we can deliver timely and efficient roof repair services. We have always been committed to complete client satisfaction through exceptional workmanship. That's why, when you choose us to handle your roofing needs, you can count on us to finish the job perfectly right the first time. Here are some of the services we offer:
Roof repair and replacement
Preventive roof maintenance
Steep and flat roofing installation
Attic insulation
Skylight installation
Commercial roof repair, replacement and installation
Because Kingdom Roofing is deeply familiar with local building requirements, you're also sure the work we do is up to code for your own personal safety.
Can I Get a List of References?
You'll always want to ask your choice of roofing contractor for a list of references. This way, you can check the quality of their work and talk to previous clients who can vouch for the services they provide. Don't be shy when reaching out to each reference. By confirming that your roofer is reliable, you'll have greater peace of mind and ensure your project can go on smoothly.
But you can actually take this further by reading the testimonials your roofing contractor has received. Did you know that up to 90% of consumers read online reviews before calling a business, and that 88% of them trust online reviews as much as personal recommendations? Visit your roofer's website and check if their scores and reviews are satisfactory.
When a Building Permit is Required, Will You Handle Its Acquisition?
Extensive roofing projects require a building permit, and most of the time, it's the roofing contractor who pulls one. But if your roofer is actually encouraging you not to get one, drop them immediately. Building permits ensure your project will meet safety codes, and non-compliance can have serious consequences. If you have a new roof installed without a permit, it can be forcibly removed. You may also face potential litigation and pay huge fines, plus your insurance provider may refuse to provide coverage for your project. To avoid problems later on, make sure your contractor applies for the necessary permits before starting any work.
Kingdom Roofing is the top roofing contractor you can count on for the highest quality services. We serve the areas in and around Venice, FL. Call us today at (941) 217-2411 or fill out this contact form to schedule your consultation.