By now, most people understand why keeping the roof on their home well-maintained is important. Roof leaks can cause structural damage, put your family at risk for mold, and cause your roof to be vulnerable to more storms and severe weather. But because Floridians spend so much time outside, we also have other structures which have roofs that need care – whether a front porch, a covered lanai, or even a sunroom which you added a few years ago.
We often cover these areas to protect us from the sun's rays and to provide shade for relaxing with our family – but the roofing structure is typically not as well-constructed as the main home.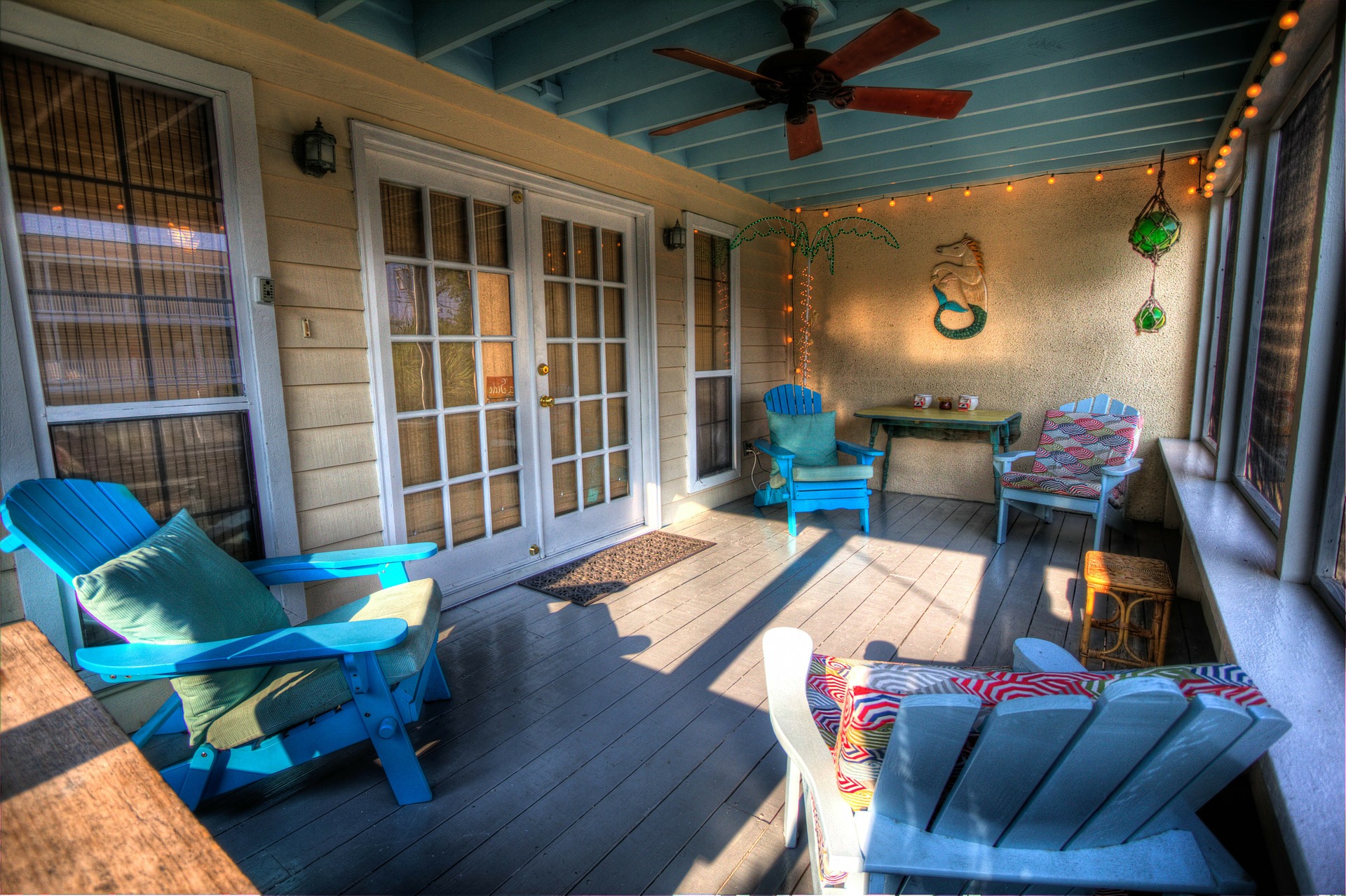 As a matter of fact, the porch or patio roof is often a lot less resilient, and therefore may need to be replaced more often. Especially if you want to sit under it during a summer rainstorm!
Unlike your main roof – which is largely out of sight, out of mind – your porch roof is directly overhead. There is no drywall, attic space, or cathedral ceiling covering the underside of the roof. This means that simply by looking up, you can often assess damage, such as insect infestation or water stains caused by leaks. The underside of an aging porch roof often exhibits cracking wood or dark stains, revealing that it needs some attention. And although your porch roof is not necessarily at the top of your "list of necessary things to fix", there are some valid reasons to look into repair or replacement.
Being that these areas are outdoors with less protection, ants and termites may find them an irresistible place to live and eat. Even treated materials will likely fall prey to these ravenous little insects at some point, so keep a good eye on the roof condition. Termites which make their way through the porch roof may keep going and enter the main building – something you definitely want to avoid.
We already spoke about the unpleasantness of a leaky porch roof. But the real danger is a bit more serious than an unintended drip. Your patio roof typically does not have the structural reinforcement of your main roof, and therefore can begin to sag. A sagging roof is not tragic, but it can deter from the overall look and beauty of your home.  And let's face it, if the water weight gets to be too overwhelming, the roof may even collapse in areas. Perhaps more importantly, a porch roof which is leaking can collect water and allow it to seep down the walls of the main home – causing the negative repercussions of a roof leak even if your main roof is sound.
If you built the porch or patio on your home, we are sure you went through all the proper permitting protocols. However, when people purchase homes they often don't realize that unpermitted work has been done. If the previous owner did not have a permit for the porch roof, you could be subject to fines if the violation was discovered. Here is a little known fact – many municipalities have employed the technology of Google Earth to compare homes on the image with the tax records. Without leaving their desk, a government official can determine that your patio roof is unpermitted. Why does this matter? For one thing, the county does have the right to compel you to remove the structure. More likely, they will fine you and then make you retrofit the roof up to the current building codes.
Whether you want to stay legal, stay safe or stay dry – Kingdom Roofing is here to help will all of your Venice roofing needs.