It's easy to take your roofing system for granted. Because it has always been there, just part of the background, the unsung hero that muffles the whistling of the wind or the patter of raindrops, and the steeply-pitched barrier that keeps the blistering Florida heat at bay. And while your roofing system works to protect your home from inclement weather, its purpose goes beyond even that. In fact, your roofing system can also help keep home energy-efficient. But how exactly does it make this possible? The premier roof repair services company in the area, Kingdom Roofing, expounds on this here.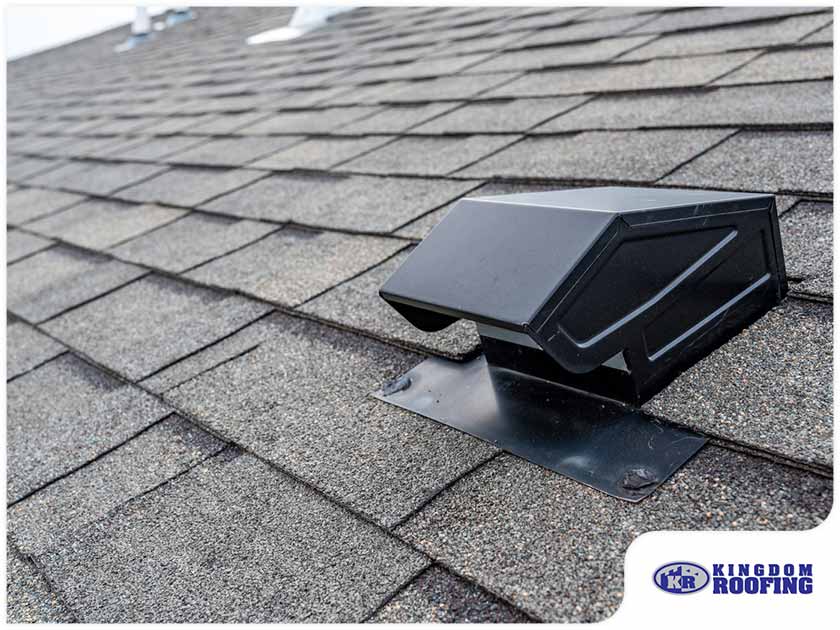 By expelling heat from the attic.  Roofing systems should have sufficient ventilation to prevent heat from being trapped inside the attic. When left overlooked, the heat will build up and bake the roofing shingles overhead, causing them to prematurely age. And it won't end there either. The heat accumulating in the attic can gradually increase the temperature in your home's interior, putting unnecessary strain on your air conditioning system and resulting in a notable increase in your monthly bills. But things won't come to this just as long as your roofing system has proper ventilation. 
Roof ventilation works this way: outdoor air is drawn into the attic through the intake vents along the soffits, and is then allowed to escape via the exhaust vents at the ridge. This process eliminates the potential of attic heat buildup by promoting smooth and continuous airflow throughout the attic. The importance of roof ventilation in maintaining your home's energy efficiency can't be denied. That's why you should definitely take it into account if you're planning a roofing replacement this season. 
But roof ventilation comes in different types and qualities. You should consult a GAF® Certified Master Elite® roofer like Kingdom Roofing to determine which ventilation will work best for your needs. One prime example is our GAF® Cobra® Rigid Vents, which allow heat and moisture to exit your attic through the ridge. They keep your roof well-ventilated, ensuring that it will stay cool even in the peak of summer. This means no AC working overtime just to keep your home thermally comfortable. The sleek and low-profile design of our GAF® Cobra® Rigid Vents also makes them blend seamlessly with your roof, so you won't have to worry about them affecting your home's curb appeal.
By reflecting heat radiation from sunlight. You know your roof is energy-efficient if it can effectively reflect the heat from the sun. Solar reflection in roofing helps ensure that your home's interior won't be compromised by high surface temperatures. In fact, some roofing systems are specially designed to ward off unwanted solar heat, lowering surface temperatures up to 30%. This not only allows for cooler and more comfortable living spaces, but also helps reduce your reliance on your air conditioning system. Since you won't have to crank up the AC just to head off the Florida heat, you can save a fair amount of cooling energy. 
There are a couple of ways your roof can reflect solar heat. Having a radiant barrier installed is one, which involves the application of a silvery finish to the underside of the roof deck to reflect heat away from the attic. But the radiant barrier on its own isn't enough to mitigate excess solar heat gain in your home. You should also invest in energy-efficient roofing materials, such as the advanced GAF® Timberline® CS shingles offered by your certified roofing contractor, Kingdom Roofing. These reflective shingles reduce heat transfer and buildup in your attic to help you save on air conditioning bills. They are also ENERGY STAR® certified, so you're doubly sure they can deliver unmatched energy performance. 
Excellent Reasons to Choose Kingdom Roofing
Some would have you believe that roofing work can be easily DIY-ed. You can certainly try–but you probably won't be thrilled with the results. The fact is that any job involving your roofing system will require the expertise of a true professional. And the good news is that finding the right one is not as daunting as you may expect. 
All it takes is a quick phone call to Kingdom Roofing–the roofing replacement contractor South Florida homeowners and commercial property managers trust for their needs.
We are fully qualified. At Kingdom Roofing, we never overlook the basics. We have the necessary licensing, bond and insurance–along with workers' compensation and considerable liability coverage–to ensure your greater protection. On the off-chance that something goes awry during your project, you can rest easy knowing that you're completely covered. And because we have extensive knowledge on building regulations specific to this area, you know that your roofing upgrade will be done to code.

We are experienced. Put Kingdom Roofing to the test for all your residential and commercial roofing needs. We are always ready to tackle any job, no matter the size or complexity. As a roofing contractor with over 30 years of combined industry experience, we are confident that your upgrade can be finished in a timely and efficient manner–all while adhering to stringent quality specifications. No costly errors or callbacks, only incomparable roof workmanship that you'd be happy to refer to a friend.

We are well-reviewed. Our clients have plenty to say about our work–and we are proud that they're all glowing and positive. Kingdom Roofing works hard to not only meet your expectations, but to exceed them, as well. This commitment is apparent in every job we complete. In fact, our customer-centric service is one of the reasons we earn 5-star reviews in Google My Business, and have secured many achievements in HomeAdvisor, including the Top Rated and Elite Service honors.

We are manufacturer-certified. As mentioned before, Kingdom Roofing is a GAF® Certified Master Elite® Roofing Contractor. This means access to some of the toughest, most versatile, and energy-efficient roofing products available in the market. Aside from their reliable and long-lasting performance, you also get to benefit from the industry-leading warranty coverage included with them. 
Get Started on Your Roofing Upgrade
You probably know Kingdom Roofing best as a trusted expert in roof repair services. But if you need high-quality roof replacement, we can help you with it, as well. In fact, with our trained and experienced roof technicians on the job, you can always expect superior and timely workmanship that leaves no room for mistakes. We proudly serve Venice and all of South Florida. Call us today at (941) 217-2411 or fill out this contact form to schedule your roof evaluation.