As temperatures rise, so do your energy bills. To keep your home cool and ventilated, you may rely a lot on your air-conditioning system. If you're looking for ways to save energy, you might consider investing in a quality GAF Energy solar roof for your home. Not only does this help you save money on your energy bills, but you may also be eligible for significant tax benefits.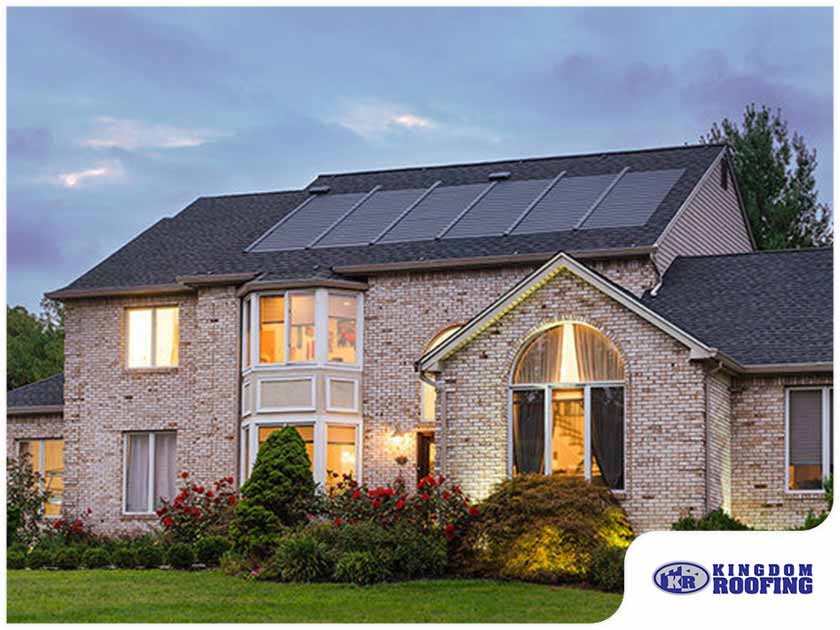 Kingdom Roofing, a top provider of quality roof repair services, presents four benefits you should expect from GAF Energy solar roofing systems. 
1. Impressive Design 
Many homeowners hesitate on investing in solar roofs because of the exposed wires and spaces that may decrease the curb appeal of their homes. However, one of the best things about the GAF Energy solar roof system is that it's less conspicuous and more effective than traditional raised panels. 
The GAF Energy DecoTech®, one of the solar roofing products from GAF, features a minimalist style, especially since the wires and components are concealed. It also fits close to your roof and does not leave any space for pests or moisture. 
2. High Efficiency 
Investing in a solar roof for your home can help you save on your energy bills. GAF Energy solar roofs are effective in capturing solar energy. The 285-watt panels provide as much electricity production as the usual rack-mounted systems, but without all the drawbacks you may face. In fact, thanks to its energy efficiency system, DecoTech's panels outperform the competition. 
3. Ease of Installation
While a roofing replacement usually takes a lot of time to complete, rest assured that the installation process of GAF Energy Solar Roofs is quick and direct. This allows you and your contractor to save time and money. Another GAF product, Timberline Solar™, is evidence of this. Considered the world's first nailable solar shingles, they do away with rack-mounted solar installations, which require drilling dozens of holes into the roofing membrane. Here, the installation is the same as that of traditional shingles; all it needs is a nail gun and roofing know-how.
4. Protective Barrier
GAF Energy solar roofing systems are tested for resistance against fires, impact and wind-driven rain, ensuring durability and reliability. Roofs equipped with Timberline Solar shingles, for instance, are warranted to be effective at shedding water and withstanding up to 130-mph winds. 
Kingdom Roofing is a leading GAF-certified roofing contractor in the area. Learn more about our GAF Energy solar roofing options by giving us a call at (941) 217-2411 or fill out our contact form to request a free estimate.